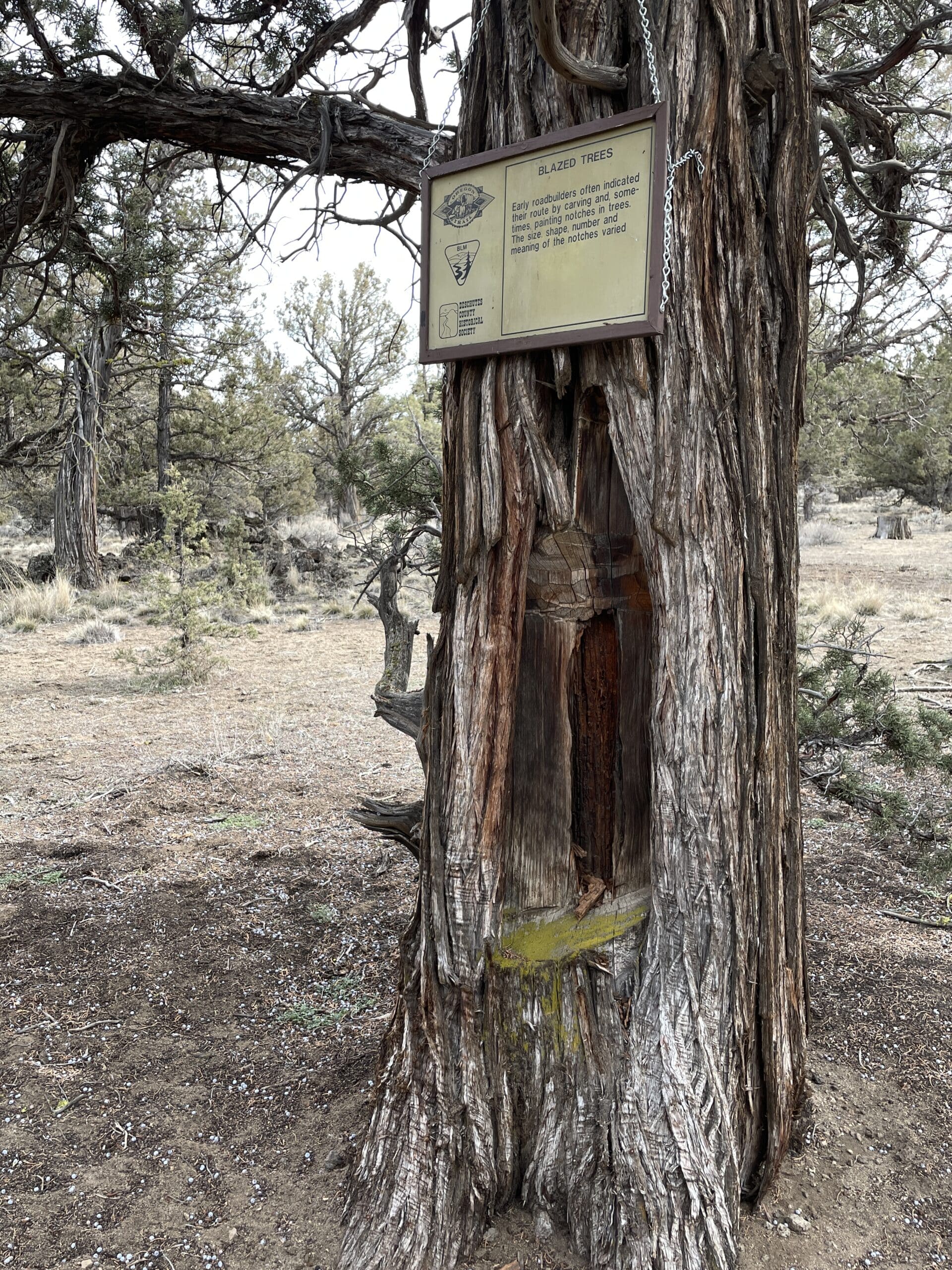 The Huntington Wagon Road Junipers. line of a very old Native American Trail. The Huntington Wagon Road was marked by J.W. Petit Huntington in 1864 as a route between The Dalles and Fort Klamath.
When the road was firmly established, it was used by prospectors, homesteaders, soldiers, and tradesman. Warm Springs Indian scouts frequently used the road in skirmishes with the Paiutes between 1865 and 1867. Heavy wagon-use along the road created deep ruts that are still visible today. Much of the original road later became OR Hwy 97—the main north to south arterial route through Central Oregon.
Three blazed Junipers are included in the Heritage grove. These craggy notched trees, marking the trail, range from approximately 25-feet to 32-feet and boast girths measuring from just under seven feet to nearly 11 feet.
Species: Juniperous occidentalis
Age: Unknown, several hundred years
Circumference: Approx. 90″
Height: from 25′ to 33′
April celebrates Arbor Day and Earth Day and we'll recognize some Magnificent Oregon Trees all month
Arbor Day, much like Earth Day, is a holiday that celebrates nature. Its purpose is to encourage people to plant trees and this year the Oregon Bed and Breakfast Guild will take the opportunity to recognizes our unique, magnificent trees throughout the month of April. Many of these trees, but not all, have been recognized as Oregon Heritage Trees.
Oregon Heritage Trees – Trees that Tell an Historic Story
Oregon has a vast amount of ancient trees across the state that are reminders of not only the their longevity but as their importance to the environment and our Oregon Heritage. Many have been recognize by the Oregon Travel Information Council in their Oregon Heritage Tree program.
These Trees Tell Stories
'Honored groves, single trees or groups of trees have something in common with one another no matter what the species: they are trees that tell a story; trees that confound and astound; trees that educate both Oregonians and visitors about significant people or events from the past; trees that have survived natural disasters or stand as silent sentries to the passage of time. And that's only a small part of what makes an Oregon Heritage Tree compelling.'
Oregon Bed and Breakfast Guild is ready to share Oregon with you: it's environment, culture, and heritage. Combine gracious hospitality with ambiance at an inspected and approved Oregon Bed and Breakfast Guild member Inn.
Hospitality Update: Our inns are following COVID-19 protocol guidance from the Oregon Health Authority. 
Although mask guidelines are lifted:
● Some businesses may choose to still require masks.
● Some people may choose to still wear a mask.
We have all struggled through COVID-19 and could use a little kindness. Please be respectful of local businesses and their workers and most importantly kind to yourself.