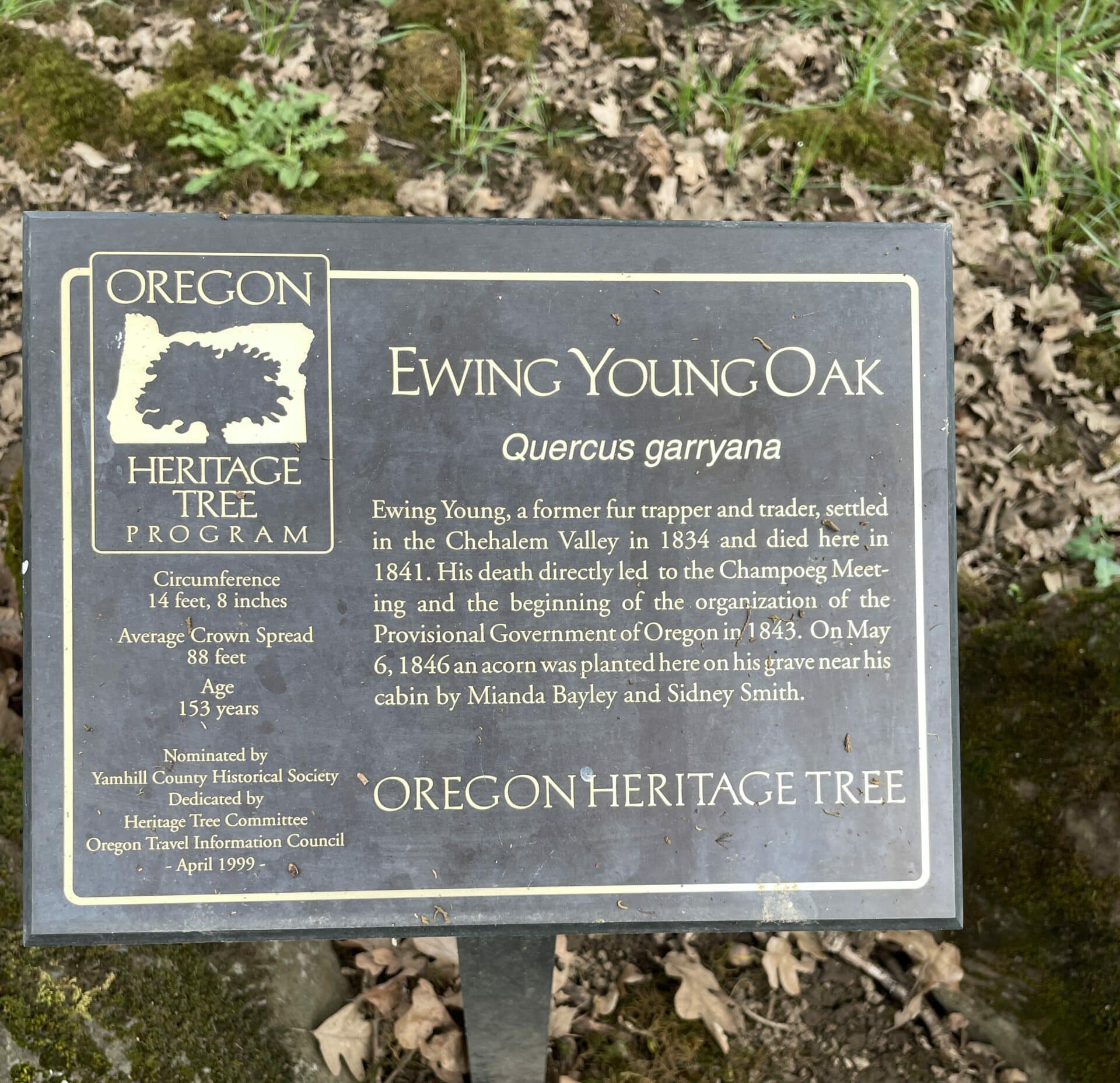 'Ewing Young, fur trapper and trader in the Southwest and Mexico, turned settler in the Chehalem Valley in 1834. He was the first American settler in the Oregon Country who was independent of aid from the Hudson's Bay Company. His death on February 15, 1841, left considerable property and no heirs. This problem created the necessity to form a civil government, which directly led two years later to the Champoeg Meeting and the beginning of the organization of the Provisional Government of Oregon in 1843, the first government by Americans on the Pacific Coast. On May 6, 1846, an acorn was planted on Young's grave near his cabin site by Miranda Bayley and Sidney Smith.'
Another majestic Oregon Heritage Tree – Provisional Government Park Cottonwood at Champoeg State Heritage Area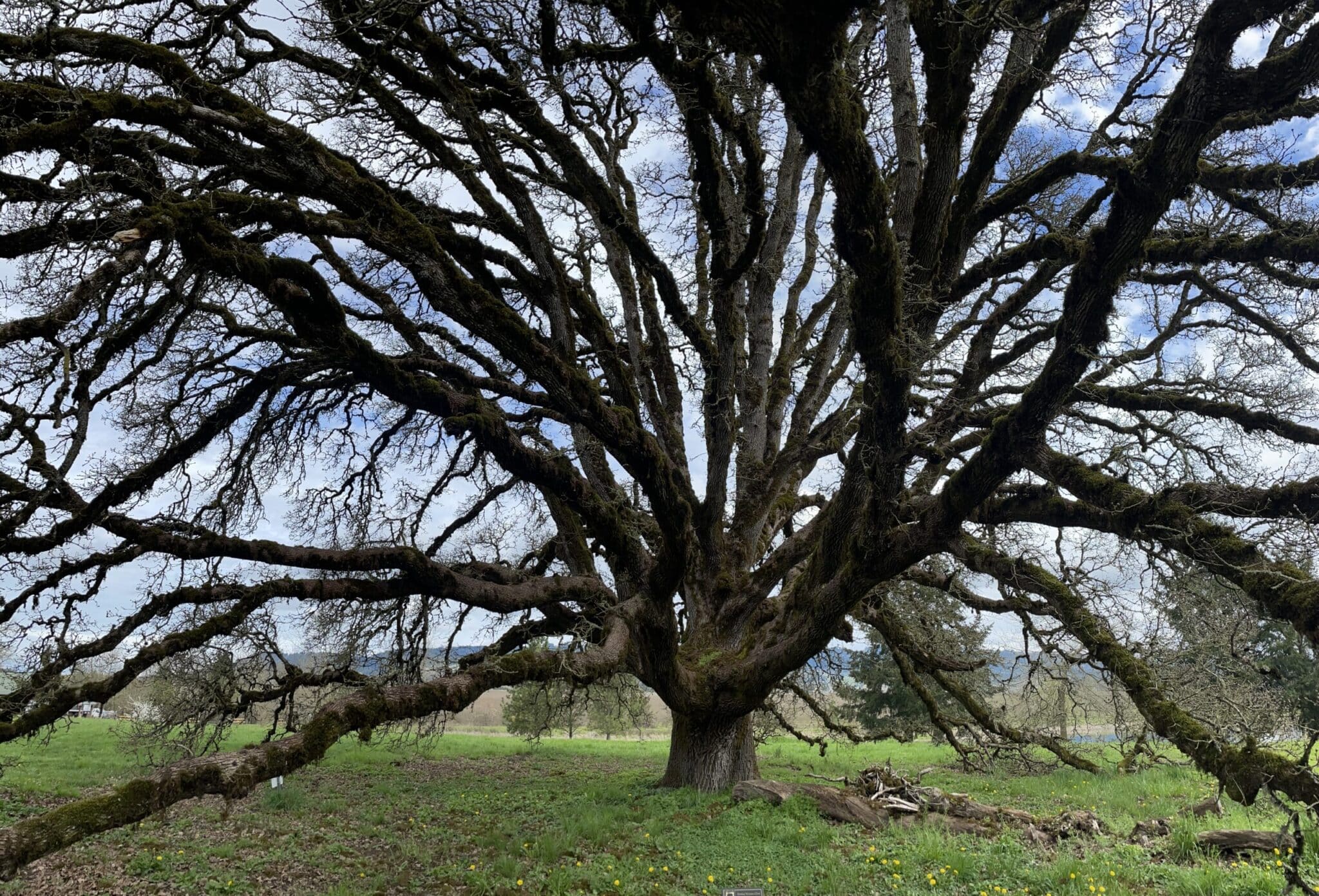 This photo doesn't show the great majesty of this tree. Standing beneath it's canopy was both breathtaking and awe-inspiring.
Tree Facts
Planted in: 1846
Circumference: 14′ 8″
Dedicated on: April 7, 1999
Crown: 88′in
Quercus garryana
Visit this tree
The Ewing Young Oak is located 1/4 mile north of State Highway 240, 4 miles west of Newberg, Yamhill County. This tree is on private property and can be viewed from Highway 240; public access is limited but one may drive into the Horse Ranch. I met a gentleman who was most welcoming and allowed us to get up close. For details call Oregon Travel Experience at 800-574-9397 during regular business hours. This Oregon Heritage Tree is a scenic day trip from our Willamette Valley bed and breakfasts.
April celebrates Arbor Day and Earth Day and we'll recognize some Magnificent Oregon Trees all month
Arbor Day, much like Earth Day, is a holiday that celebrates nature. Its purpose is to encourage people to plant trees and this year the Oregon Bed and Breakfast Guild will take the opportunity to recognizes our unique, magnificent trees throughout the month of April. Many of these trees, but not all, have been recognized as Oregon Heritage Trees.
Oregon Heritage Trees – Trees that Tell an Historic Story
Oregon has a vast amount of ancient trees across the state that are reminders of not only the their longevity but as their importance to the environment and our Oregon Heritage. Many have been recognize by the Oregon Travel Information Council in their Oregon Heritage Tree program.
These Trees Tell Stories
'Honored groves, single trees or groups of trees have something in common with one another no matter what the species: they are trees that tell a story; trees that confound and astound; trees that educate both Oregonians and visitors about significant people or events from the past; trees that have survived natural disasters or stand as silent sentries to the passage of time. And that's only a small part of what makes an Oregon Heritage Tree compelling.'
Oregon Bed and Breakfast Guild is ready to share Oregon with you: it's environment, culture, and heritage. Combine gracious hospitality with ambiance at an inspected and approved Oregon Bed and Breakfast Guild member Inn.
Hospitality Update: Our inns are following COVID-19 protocol guidance from the Oregon Health Authority. 
Although mask guidelines are lifted:
● Some businesses may choose to still require masks.
● Some people may choose to still wear a mask.
We have all struggled through COVID-19 and could use a little kindness. Please be respectful of local businesses and their workers and most importantly kind to yourself.