You deserve a Staycation and 36 hours in Oregon should fit the bill.
Where in Oregon would you go if you only had 36 hours? What would you do? See? Eat? Where would you stay? Let our innkeepers of the Oregon Bed and Breakfast Guild be your guides. We'll offer suggestions to make your day-and-a-half Oregon adventure worth every second! Check out these insider tips below.
36 Hours in Newberg
Where to Eat Lunch in Newberg
Red Hills Market – This is a great stop for coffee and espresso drinks and our favorite pizza spot, they also have great sandwiches, salads, and cookies, say the innkeepers at The DreamGiver's Inn in Newberg. We also like The Horse Radish. It's a cool lunch spot in downtown Carlton with a great Northwestern menu. The people are friendly and the food is excellent.
The Newbergundian Bistro offers a casual atmosphere with great service, and has great food. It offers everything from burgers and fish 'n chips to steak and pasta entrees and also has vegetarian options, say the innkeepers at Chehalem Ridge Bed and Breakfast in Newberg, who are also fans of the Forage Café. Set in a beautiful craftsman cottage, Forage offers wood-fired pizzas and Italian dishes that give you a bit more of an upscale experience at lunch time – perfect in between wine tastings.
Where to Eat Dinner in Newberg
Recipe Neighborhood Kitchen – The service is excellent and the menu varies with the seasons. It has a very cool Northwest theme that's prepared and presented in excellent fashion. We also love the Joel Palmer House in Dayton. Chef Chris works hard to source local, unique, even rare, foods. He artfully prepares each dish, for a great presentation, and they're served by his excellent service team, per the innkeepers at The DreamGiver's Inn. The restaurant has developed a following for its mushroom cuisine.
The Painted Lady is a special dining experience offering 8-course prix fixe meal in a beautiful refurbished Victorian home. Rosmarino Osteria Italiana is a fine dining restaurant with an exciting, entertainer of a chef. So dining here is another experience that we love and guests love. Plus you get awesome, Northern Italian family recipes, per the innkeepers at Chehalem Ridge Bed and Breakfast.
Things to Do in Newberg
If you only have 36 hours, make sure to go wine tasting! Newberg is in the Willamette Wine Valley and home to two-thirds of the state's wineries and vineyards. There are nearly 700 wineries in the area! There are 100-wineries alone within 20-minutes from Chehalem Ridge Bed and Breakfast.
Some of the innkeepers favorite Wineries in Newberg include:
Natalie's Estate offering more Big Red Wines so it differs from a lot of the wineries mainly offering Pinot Noirs. Eminent Domaine is another small winery focusing on Pinot Noir and Chardonnay with wonderful views. And all the wine tasting rooms in downtown Newberg are a great way to taste the wine, explore the eateries, and shop local.
Get an appointment with Beckham Family Vineyards in Sherwood. You can taste their excellent wines and learn about aging Pinot Noir in jars of clay.
Schedule a grand tour of the Carabella Vineyard in Wilsonville. You can experience their excellent wines as you stroll down the hill through the vineyard to the tasting room. Learn from the winemaker himself, about the geology, geography, history and formation of our growing region here in the north Willamette Valley.
Here you'll experience the comfortable, cozy indoor seating or sit outside on the patio next to the beautiful pond and waterfall. To go with their excellent wines, they also have a great little restaurant featuring small plates that's open till 8 pm, most nights.
Cozy up at the 99W Drive-In movie theater, weather-permitting, on Fridays, Saturdays and Sundays. There are only three remaining drive-in movie theaters in Oregon. This one has been in operation since 1953.
The Chehalem Cultural Center offers a look at Oregon's history as well as the work of emerging local artists. Music and events happen all year long offering locals and tourists a great community locale to immerse in local culture.
There are many museums and other attractions such as Evergreen Air Museum in McMinnville, End of the Oregon Trail Museum in Oregon City (until it reopens, enjoy its digital content online), etc.
Best Waterfalls in Newberg or Near Newberg
The Multnomah Falls are a group of absolutely stunning waterfalls. They're a short drive up the Columbia River Gorge. Ask your innkeeper for must-see destinations off the beaten path!
Silver Falls State Park – 10 waterfalls in over 8 miles, several that you can walk behind and get some waterfall mist on your face.
Where to Stay in Newberg
The DreamGiver's Inn: Kevin and Mary are the owners and operators and live onsite. They make every effort to personally see to the comfort of all guests. The house is big with a distinct, classic, wine country, farm theme. There are many places to hang out and relax, a cozy library, fireside room, several outdoor decks with valley and mountain views.
The baked goods at DreamGivers are made from scratch. Most breakfasts are served farm to table. Kevin and Mary also provide suggestions and arrangements to some of the best wineries and restaurants in Newberg. Kevin has lived in the area his whole life. He's seen the wine industry develop over the last five decades. For those who are interested, he has many stories and history to share. Come relax and have a glass of wine on the front deck, which overlooks the vineyard and offers a grand view of the Willamette Valley.
Chehalem Ridge Bed and Breakfast: Our outstanding view of Newberg, 1000 feet up in the sky, is not to be missed! We have private decks from four of our five rooms, in which to enjoy the panoramic view. We also offer a daily three-course gourmet breakfast, different every day, created by Chef Kristin, who owns the B&B.
We've made it our business to know everything about wine country (and even the surrounding area like coastal day trips, Portland excursions, and Gorge and Mt Hood adventuring) so we can give the most up to date, relative info to our wonderfully curious guests. We pride ourselves on our concierge-style, friendly service.
If you only had 36 Hours to discover McMinnville
Where to Eat Lunch in McMinnville
Community Plate – We love the healthy and vegetarian-friendly options at this upbeat, family-owned cafe. It serves American breakfast and lunch classics, plus beer, wine and cocktails. And it's a favorite among the locals, say the innkeepers at A' Tuscan Estate Bed and Breakfast in McMinnville. The Crescent Cafe is another beloved local spot. It offers hearty comfort food that's made from scratch. Nick's Italian Cafe is also extremely popular for its homey Italian fare, featuring pasta, wood-fired pizza and a brick-walled bar with a pool table.
Where to Eat Dinner in McMinnville
La Rambla is a great Spanish tapas and paella place and fun for sharing lots of small plates, great food, and cocktails. It also has an extensive wine list. Pizza Capo has an arancini to die for as well as a seasonal burrata salad that just melts in your mouth. The pizzas are wood-fired artisan. Pura Vida Cocina offers great Latin American dishes, like fried avocado and salmon ceviche. It uses really fresh ingredients and has great margaritas too, per the innkeepers at A' Tuscan Estate Bed and Breakfast.
Things to Do in McMinnville
Wine and Beer tasting is big here. If you only have 36 hours, check out the several tasting rooms and tap houses on Third Street from which to choose. We love the R. Stuart Taste of Place wine tasting, say the innkeepers at A' Tuscan Estate Bed and Breakfast. R. Stuart takes you through their single vineyard bottlings and exposes you to various terroirs. It helps to understand the true soil, sun, wind, elevation, etc. of many of the special vineyards.
Evergreen Aviation and Space Museum – home of the Spruce Goose, the largest wooden airplane ever constructed. This aviation museum in McMinnville also has the Hughes H-4 Hercules and more than fifty military and civilian aircraft, unmanned aerial vehicles, and spacecraft.
Miller Woods Conservatory Area has several great hiking trails of varying length and difficulty.
McMinnville Farmer's Market is a must for fresh, local, fruits and veggies. It's open on Thursdays from 12 to 6 p, May – October.
Best Waterfalls in McMinnville or Near McMinnville
Baker Creek Falls is located off Baker Creek Road on the north of Slide Mountain. It's five miles upstream from Ed Grenfell Park and the Miller Woods Conservatory.
Where to Stay in McMinnville
A' Tuscan Estate Bed and Breakfast is just a 6-minute walk to McMinnville's historic downtown Third Street and its popular eateries, boutique shops, beer and wine tastings. The B&B is also between a 10 to 45-minute drive from more than 675 wineries throughout Willamette Valley. A'Tuscan Estate has been in business for 20+ years and has been ranked #1 in McMinnville by TripAdvisor for several years in a row!
36 Hours in Port Orford
Where to Eat Lunch in Port Orford
Tasty Kate's is a wonderful grab 'n go place with exceptional food. It's set in a colorful cottage and filled with artsy accents. Crazy Norwegians is known for its fish 'n chips and chowder; they even have tuna fishy chips, say the innkeepers at WildSpring Guest Habitat in Port Orford.
Where to Eat Dinner in Port Orford
Redfish has modern French-inspired seafood dishes in an upscale-casual eatery with jaw-dropping ocean views and a patio. Check the days and hours before you go. Griff's on the Dock is a shack that is literally on the port dock of the WildSpring Guest Habitat. It has great fish 'n chips, seasonal whole crabs, and other seafood.
Things to Do in Port Orford
Walk around the Port Orford Heads. This coastal state park has amazing views and a rich wartime history. The views from the Headland Trail extend north toward the Cape Blanco Lighthouse and south to Port Orford and Humbug Mountain. Take the Tower Trail to the historical location of the observation tower (removed when the station was decommissioned). During World War II, lookouts watched for enemy aircraft, ships and submarines.
Go fishing, see wildlife or enjoy gliding across the waterways of the banana belt coast of Oregon with an ocean tour by Dave Lacey and team at South Coast Tours.
Best Waterfalls in Port Orford or Near Port Orford
Elk Creek Falls is the final of about a dozen significant waterfalls situated within the Elk Creek basin. It is also the only waterfall among those with easy or developed access of any kind. It's made up of four tiers in a narrow and twisty canyon. Secret Beach Falls is tucked into the northern-most end where the Oregon Coast Trail squishes between the road and the overlook to Thunder Rock Cove, you'll find a nearby trail that leads to a small beach with a waterfall.
Where to Stay in Port Orford
WildSpring Guest Habitat sits on 5-acres overlooking the ocean, offering comfortable luxury in a quiet, naturally beautiful second-growth forest. The B&Bs offers cabins instead of rooms, built like small homes and filled with art and antiques. Guests tell us they feel like honored guests in a private estate. You'll feel like you're on another planet!
Staycations in Yamhill and Carlton
Where to Eat Lunch in Carlton/Where to Eat Lunch in Yamhill
The Larson House in Carlton has great paninis, sandwiches, and pizza. Beloved Children's book author, Beverly Cleary, an author of children's books like the Ramona Quimby series, lived in Yamhill and is represented by a prominent mural on one wall.
Lago de Chapala, a small family-run restaurant, serves authentic Mexican fare and amazing margaritas in Yamhill (and has another location in Newberg). We like the chalupa served with guacamole, sour cream, rice and beans. You also receive complimentary chips and salsa (mild or hot), say the innkeepers at Yamhill Vineyards Bed and Breakfast in Yamhill-Carlton.
Carlton Corners has great hamburgers (don't be surprised by the big knife that is sticking out of the burger when it is served), a four-sampler beer tray, and interesting signs on the wall. You can also get food-to-go and gas for your car. Plus, you can bring your pooch. Carlton Corners allows pets to dine with you outside. The restaurant is just a 5-minute walk from the R.R. Thompson House, a historic bed and breakfast in Carlton.
Barrel 47 has a Southwest chicken salad and chicken strips with shoestring fries that are wonderful. This restaurant is situated inside an old bank.
Where to Eat Dinner in Carlton/Where to Eat Dinner in Yamhill
Cuvee serves French cuisine in a small, intimate, setting where you are likely to meet the owner and chef. Earth and Sea is in the old Carlton Firehouse. The big doors that opened to accommodate fire engines were replaced by equally large doors, which remain open when the weather is right. They serve locally sourced and sustainable food. The steaks and fish, as well as oysters in the half shell are very popular, say the innkeepers at Yamhill Vineyards Bed and Breakfast and R.R. Thompson House.
The Horse Radish is an offbeat storefront nook that serves sandwiches, artisanal cheese plates, local wines and beers. The restaurant offers indoor and outdoor dining. The innkeepers at R.R. Thompson House and Yamhill Vineyards Bed and Breakfast had only the highest recommendations for Horse Radish — for both, lunch and dinner.
Things to Do in Carlton/Things to Do in Yamhill
Definitely visit several wineries if you only have 36 hours. Yamhill-Carlton is known for all the wineries and wine tasting. Many have fantastic views and storied pasts. The Southern Pacific Railroad Depot is now the Ken Wright Cellars tasting room.
The Carlton Grain Elevator was remodeled and is the home of Flaneur Wines. Make time to visit the Carlton Winemakers Studio, it's the first cooperative winery in the U.S. It was built in 2002 and houses 16 wineries. The eco-friendly building used recycled materials and lots windows for lighting. They rotate the wines in the tasting room.
Take a self-guided Carlton Historical Tour, a walking tour of 27-historical sites. Browse the tour now on this app. Are you sure you only have 36 hours? You might want to extend your stay!
Hike the Our Lady of Guadalupe Trappist Abbey and walk through the woods of this Trappist monastery.
Follow the paved path to the Erratic Rock State Natural Site where you can visit a 90-ton rock that was deposited during an Ice Age flood. Bring your camera! There's a commanding view of Yamhill County.
In nearby McMinnville, the Evergreen Aviation and Space Museum is home of the Spruce Goose, the largest wooden airplane ever constructed. This aviation museum in McMinnville also has the Hughes H-4 Hercules and more than fifty military and civilian aircraft, unmanned aerial vehicles, and spacecraft. Additionally, McMinnville also has a self-guided walking art walk and a McMinnville self-guided historic building walk.
Best Waterfall in Carlton or Near Yamhill
Silver Falls State Park is breathtaking and has ten waterfalls. The different trails can accommodate hiking, horses, bicycle, mountain bikes and pets on leash. You can picnic and enjoy the scenery.

Where to Stay in Carlton/Where to Stay in Yamhill
Yamhill Vineyards Bed and Breakfast in Yamhill sits atop a hill with spectacular views down the valley to Mary's Peak in Corvallis (50 miles away), the Oregon Coast Range and is surrounded by vineyards. The B&B is is equal distance from Yamhill and Carlton.
'We serve grape juice for breakfast made with the grapes grown on the property, "wine before it's time," explain the innkeepers. Guests also receive a vineyard tour "Vineyard Practices -101" where they can learn about the various activities throughout the growing season. This B&B grows its own Pinot Noir, Pinot Gris, Pinot Blanc, Chardonnay and White Riesling.
R.R. Thompson House in Carlton is the just three blocks from Main Street and the perfect home base to walk the town of Carlton. The B&B is within easy walking distance of all of the wineries, restaurants, and shops in town.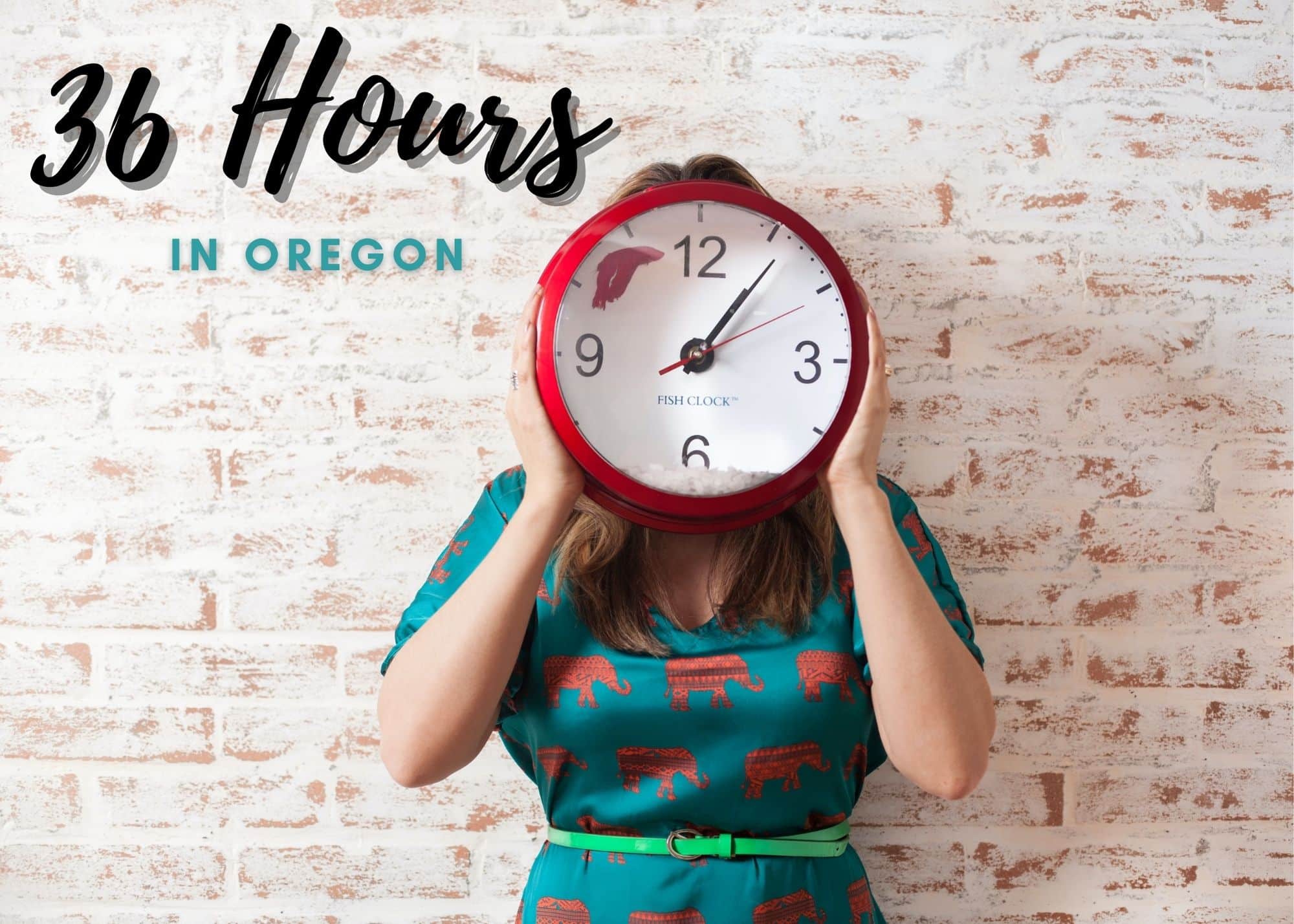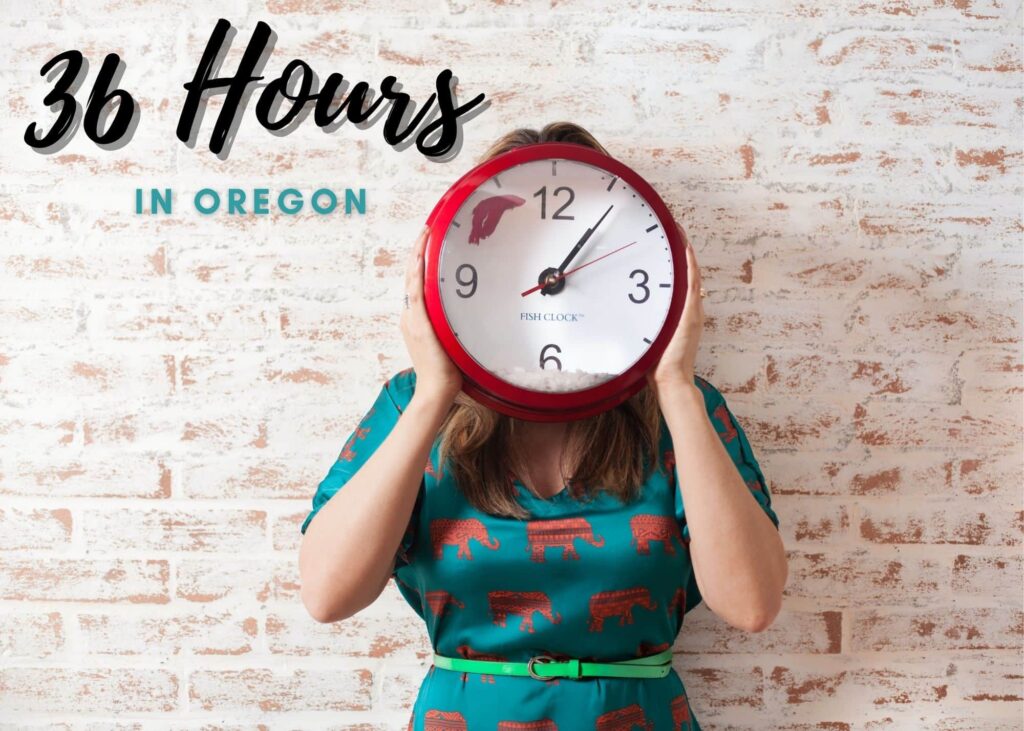 36 Hours in Mount Hood
Where to Eat Lunch in Mount Hood
Apple Valley BBQ (just two-blocks from the Old Parkdale Inn) has great Northwest style BBQ in the heart of the Upper Hood River Valley. In addition to the BBQ, the sides are great, the specials are great. They're just great folks, say the innkeepers. The restaurant has indoor and outdoor dining, as well as pick up orders to-go.
Where to Eat Dinner in Mount Hood
Solera Brewery, across the street from the Old Parkdale Inn, specializes in creating unique, one of a kind beers in small batches. The Hedonist IPA is a local's favorite, and is the only beer available on draft year round. The taplist changes regularly though the stunning view of Mount Hood remains unchanged. Grateful Vineyard is home to brewed beer, ciders and wine, as well as great pizzas and an amazing view of Mount Hood. Are you sure you only have 36 hours? You might want to extend your stay so you can savor all the incredible foods!
Things to Do in Mount Hood
The first thing to do if you only have 36 hours is to head to the Hood River County Fruit Loop, a scenic 35-mile driving tour through the scenic Hood River Valley, past fruit stands, family farms, and wineries.
Follow the steps of pioneers. Head to the Historic Barlow Road and see a replica of the old tollgate between mileposts 44 and 45 in Rhododendron. This is where pioneers had to pay $5 to cross. You'll can also see the Laurel Hill Chute, a vertical area where settlers lowered their wagons.
Head to the Mt Hood National Forest and take a dip in Trillium Lake, a popular place to cool off that offers spectacular views of Oregon's highest point, Mt. Hood.
Visit the Mt. Hood Cultural Center and Museum. The museum tells the history of skiing, snowboarding, and early days of Mt. Hood. Make times to peruse the Mt. Hood Gallery, which includes an interactive 3D mountain model, a unique exhibit on the evolution of skiing at Mt Hood, and a miniature replica of a fire lookout.
Best Waterfalls in Mount Hood or Near Mount Hood
Tamanawas Falls are amazing at 100 feet high and 40 feet wide. The trailhead footbridge is the midpoint of a 8-mile stretch of the East Fork of the Hood River hosting nesting Harlequin Ducks. Belted Kingfisher are common but it's the songbirds you're likely to remember long after they've sung their tunes. The trailhead is only 9-miles from the Old Parkdale Inn.
Where to Stay in Mount Hood
Old Parkdale Inn: Location! Location! Location! The Hood River Fruit Loop is located in the beautiful Hood River Valley at the foot of majestic Mt. Hood offers you a variety of wines, fruits, vegetables, flowers, ciders, and food. Outdoor adventures such as kayaking, windsurfing, skiing, snowboarding, biking and hiking await. Mt. Hood Meadows, Cooper Spur Mountain Resort, and Timberline Ski areas are only a short drive away, as is the vast Mt. Hood National Forest where trails and wildlife abound.
36 Hours in Joseph
Where to Eat Lunch in Joseph
The Dog Spot is a unique boutique-cafe combo. The chef is excellent and has created an eclectic fusion menu. The shop features a curated line of clothing, accessories, home goods, and pet essentials with a focus on vendors from the Pacific and Inland Northwest. Indoor and outdoor seating is available; pets are welcome for outdoor seating during summer months, per the innkeepers at the Bronze Antler Bed and Breakfast in Joseph.
Where to Eat Dinner in Joseph
Terminal Gravity in Enterprise, just 10-minutes from Joseph, is a local brewpub with tasty American eats in a rustic setting with outdoor picnic tables. The Gold Room, 3 to 4-blocks from the Bronze Antler Bed and Breakfast in Joseph, has excellent wood-fired pizza as well as signature cocktails. The Embers Brew House has a nice garden to sit in and occasional live music. It's renowned for having the largest selection of micro-brews in Eastern Oregon.
Things to Do in Joseph
If you only have 36 hours, you'll want to take a stroll down Main Street beginning on the north end. Heading south you can visit unique shops, galleries, and eateries along the way. Continue south through town to the very end of Main Street and you will arrive at the Iwetemlaykin State Park Heritage Site. As you gain a little elevation you'll possibly see on a clear day The Seven Devils mountain range in Idaho. From there continue south to the shores of Wallowa Lake and Chief Joseph's monument.
Wallowa Lake is a ribbon lake 1-mile south of Joseph. It's located between the south end of a scenic glacial lake and the towering peaks of the Wallowa Mountains. There is a large day-use area along the lake that features a beach, fishing spots, and picnic tables. The park continues a mile upriver at Little Alps day-use area, which also offers picnicking along the river and access to the Wallowa Lake Trailhead, the gateway to the Eagle Cap Wilderness Area.
Zumwalt Prairie has the largest remaining areas of Pacific Northwest bunchgrass prairie in North America. The narrow trails lead to great sightings of hawks, eagles and other wildlife. How many eagles will you see in 36 hours?
Best Waterfalls in Joseph or Near Joseph
BC Creek Falls lies within the Chief Joseph Mountain Trail, approximately an 8-mile out-and-back trail near Joseph. In less than 3-miles on the trail you'll find two rivers and Wallowa Lake views, in addition to the falls. Click here to print a map to the trail. Also, Wallowa Falls, seems more like a long rapid than a fall but its location, nested in a deep gorge is beautiful. While in the area, check out the new Wallowa Falls Campground and enjoy a picnic with a view!
Where to Stay in Joseph
Relax on the front porch any time of the day or enjoy a round of bocce ball on the regulation size court at Bronze Antler Bed and Breakfast in Joseph. The view from the breakfast room is spectacular. The laid back, inviting atmosphere, will make you want to stay forever; what 36 hours?
36 Hours in Monmouth
Where to Eat Lunch in Monmouth
One of the top lunch spots is Koyotes Tacos – best street tacos in town! The food is reasonably priced and it's just one block from its Main Street location to MaMere's Bed and Breakfast (and Events Center). Many guests choose to get their food to-go and return to the B&B's courtyard, per the innkeepers, who urge guests to also pop by the Carnivale Donut Bar Truck on their walk.
Craft Bar West is funky and fun. It even boasts a Hobbit Hole! From sandwiches, soup and delicious cocktails to actual CRAFTING opportunities (make a sign to take home with you) – enjoy the atmosphere and tasty lunch items, per the innkeepers at MaMere's Bed and Breakfast (and Events Center) in Monmouth.
Where to Eat Dinner in Monmouth
Crush Wine Bar is owned by a good friend of the innkeepers of MaMere's Bed and Breakfast (and Events Center). Crush has a HUGE wine list and great beers/ciders on tap. We recommend the steak or shrimp risotto and you MUST start your meal off with the spinach artichoke dip, say the innkeepers. Need something lighter?Try their delicious charcuterie board or have the innkeepers pick it up for you and have it waiting at the B&B.
Dry Town Tap Station has a casual and relaxing vibe and got its name because Monmouth used to be a dry town up until 2002. You can enjoy a pint, dinner from their eclectic food truck with revolving menu, and also jam out to live music most Friday and Saturday nights in the summer; you'll find plenty of outdoor seating!
Things to Do in Monmouth
If you only have 36 hours, you'll want to head to Baskett Slough, a National Wildlife Refuge that provides a home for threatened and endangered species, stopovers for migratory birds, and trails for visiting. With an easy walk (kid-friendly!) you can spot wildlife, wildflowers and beautiful vistas of the Willamette Valley.
Western Oregon University is only a block from MaMere's Bed and Breakfast (and Events Center) and the innkeepers highly recommend visitors take a stroll. There's lots of history, a pretty campus, and many wonderful events take place on campus!
The other must-do in Monmouth is wine tasting. The innkeepers at MaMere's Bed and Breakfast (and Events Center) have some of their favorites to recommend based on your wine preferences, views, things you can do at the winery, and some colorful and fun winery owners!
Many wineries near Monmouth offer delicious food menus, like wood-fired pizzas, so you can have dinner/lunch with your tasting. Others have music, yoga, or other fun activities you can enjoy while tasting! And our friends at Crush Wine Bar do joinable and private tours to help you get from point A to B.
Best Waterfalls in Monmouth or Near Monmouth
Silver Falls State Park– While it's about an hour's drive (to Sublimity) it's worth it! The falls offer stunning views, fun hikes, and lots to experience with its 10 waterfalls in over 8 miles, several that you can walk behind and get some waterfall mist on your face.

Where to Stay in Monmouth
MaMere's Bed and Breakfast (and Events Center) is set in the Historic Howell House. Built in 1891, the B&B has all the charm you would expect from a house built 130 years ago. It's conveniently located a block from Western Oregon University, close to many amazing wineries, and centrally located for day trips to Portland, Oregon Coast, Salem and more!
36 Hours in Roseburg
Where to Eat Lunch in Roseburg
Brix Grill in historic old town Roseburg is is consistently good. It's a stylish eatery, full of locals, has a large variety, and great service, say the innkeepers at C.H. Bailey House in Roseburg. Lighthouse Center Bakery is vegan and people drive for miles to eat there. No matter what day you go, it is always busy, but service is great and it never seems overcrowded. The food is great, the place is beautiful, and the outdoor seating is lovely.
Where to Eat Dinner in Roseburg
True Kitchen + Bar is intimate, beautifully decorate, and offers refined Northwest dinners, cocktails and wine. The desserts are amazing, per C.H. Bailey House. The Parrott House, set inside a restored historic home from 1891 has upscale dining, great drinks, a wonderful setting and atmosphere, and a fun Bourbon Bar.
Things to Do in Roseburg
If you only have 36 hours, you'll want to go wine tasting! There are 30 wine tasting rooms and eight local breweries. Try Abacela Winery. Their wine is award winning, but even if everyone in your party doesn't drink, the walk through the vineyards to the gazebo on a hill is great exercise and provides a wonderful place for respite and views. If you take a bottle of wine and some glasses with you, it's even better.
Make sure to leave enough time for the Wildlife Safari in Winston. The Safari is known for it's known for its cheetah breeding program and fun experiences, like having an elephant paint a picture for you.
Best Waterfalls in Roseburg or Near Roseburg
There are so many waterfalls in the Umpqua Valley, but unfortunately with the fires in 2020 and 2021, many waterfalls are not currently accessible. One of our favorites, that still can be visited (and we often hike to it on Christmas Day), is Wolf Creek Falls. It's a two tier waterfall located on the west side of the Umpqua National Forest. You'll find it where rivers of the forest create several waterfalls; Cavitt Creek Falls, and Shadow Falls are within five miles of Wolf Creek.
Where to Stay in Roseburg
C.H. Bailey House is a one-bedroom bungalow, tastefully furnished with full amenities, luxurious linens, complimentary local wine and beer, breakfast, and fresh flowers in Roseburg. A guest once said the innkeepers provide, "Culture and class in rural Oregon."
Oregon Bed and Breakfast Guild is ready to share Oregon with you: it's environment, culture, and heritage. Combine gracious hospitality with ambiance at an inspected and approved Oregon Bed and Breakfast Guild member Inn.
Hospitality Update: Our inns are following COVID-19 protocol guidance from the Oregon Health Authority. Oregon's statewide mask requirement for indoor public places was lifted on March 12.
After mask guidelines are lifted:
● Some businesses may choose to still require masks.
● Some people may choose to still wear a mask.
We have all struggled through COVID-19 and could use a little kindness. Please be respectful of local businesses and their workers and most importantly kind to yourself.